Dear Friend,
You, and each one of DRMM's friends and partners, are special to us and precious in the eyes of God for sharing and caring for those among us who are hungry and hurting . . .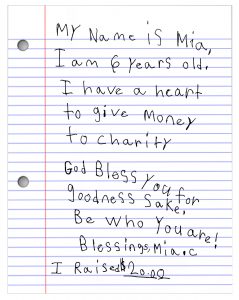 That's why I just had to share the note pictured at right from one of our youngest supporters, Mia. Like you, Mia has a heart for the suffering of others.
Like you, she follows Christ's command to love her neighbors who are in need, and to give generously to help them through a difficult time.
This big-hearted child took it upon herself to raise money so she could personally make a difference in the lives of those who are suffering and need help getting back on their feet. And that's the challenge I place before you now.
Be like Mia and give generously, selflessly, in support of DRMM again today. Your compassion and generosity will feed the hungry, shelter the homeless, and help those who are lost and broken to rebuild their lives.
Thank you for your prayers and support today and in the days ahead. We cannot meet the incredible need without your help.
Serving those in need,
Chad Audi
President