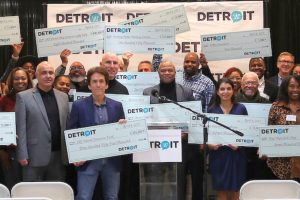 DRMM received a $25,000 donation from our partner SAY Detroit raised from their 11th annual SAY Detroit Radiothon. They distributed $1.8 million to 34 local charities (including DRMM) at a ceremony held on April 4th.
"This is one of the best days each and every year," Mitch Albom, co-founder said. "Helping other like-minded nonprofits in our region who help others is very meaningful and we know the money will be put to good use in their respective operations."
Our own CEO Dr. Chad Audi started Say Detroit in partnership with Mitch Albom in 2006 and is a current board member. SAY Detroit as an organization that focuses on providing a better life for individuals who are or may have struggled with health, housing or food insecurity.
The donation will benefit Genesis House II Shelter for Women.
2023 Radiothon Distribution Charity Recipients:
The Avalon Village, $5,000; 
Better Together, $50,000;
Bing Youth Institute, $5,000;
Boys Hope Girls Hope of Detroit, $7,500;
Building Better Men, $15,000;
Cass Community Social Services, $25,000;
Detroit Dream Scholars fund at the College for Creative Studies, $45,000;
COTS Detroit's Bright Beginnings, $12,500;
D2N, $7,500;
Detroit Culture Youth Company, $5,000;
Detroit Hives, $7,000;
Detroit Recovery Project, $5,000;
Detroit Rescue Mission Ministries Genesis House II, $25,000;
*Faith Tabernacle Choir/A Hole in the Roof Foundation, $5,000;
*Full Count Foundation, $10,000;
Humble Design, $15,000;
Hugs from Heaven, $15,000;
*Jive Turkeys Detroit, $5,000;
LA SED, Inc., $15,000;
Michigan Veterans Foundation, $15,000;
Mi-Cycle, $50,000;
Mother Batie's Kitchen/United Sisters of Charity, $10,000;
North Star Reach, $5,000;
Notes for Notes, $10,000;
Parker Village, $7,500;
*Peace Players Detroit, $5,000;
SASHA Center, $15,000;
SAY Detroit Family Health Clinic, $100,000;
SAY Detroit Play Center at Lipke Park, $800,000;
SAY Detroit Tomorrow Fund, $355,000;
*TeMaTe Institute for Black Dance and Culture, $2,500;
*Urban Innovators, $5,000;
*Volleyball Elite, $10,000;
*Wayne County Neighborhood Legal Services, $10,000;
Westside Cultural & Athletic Club, $12,000;
Working Homes/Working Families, $150,000.